Quite simply, "YOUR TRAVEL IS OUR BUSINESS".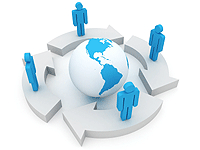 Flight Connection enjoys vast experience in providing travel related services to "AA rated" corporations, Embassies, foreign missions and private customers & NGO's.
Flight Connection prides itself on its innovative technology backed by highly-experienced, trustworthy and proactive travel counselors who are committed to exceeding your expectations.

Flight Connections is engaged in technology advances, education certification and the development of worldwide resources that further enhance the quality of service.

Whether it is business travel, meeting or a much-needed vacation, service excellence is Flight Connection's number ONE priority. By investing in employee training and superior technology, Flight Connection fulfills its mission to deliver professional travel services providing the greatest possible value at the least possible cost.
We continue to earn and enhance our reputation in the industry. We have gained respect from our partners in travel, and enjoy a professional standing in the travel industry.
Relations with our trade partners work in favor of our clients, since we are able to service our customer's requirements in a better way.

Your Travel is Our Business.
Our Mission

To become a regional, service oriented travel solutions provider, known for quality and efficiency

Core Values
To enrich the lives of everyone we touch.
Promote professional Integrity and Honesty.
Promote mutually beneficial solution to our customers.
Encourage healthy work practices and endorse wok ethics